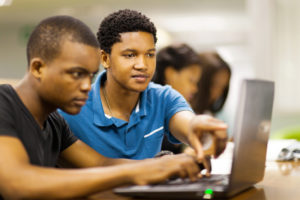 The U.S. Department of Education is partnering with colleges and universities to launch a new experimental initiative to enable low income students to pay for certain coding bootcamps using federal financial aid.
The program is targeted toward low income students through the Educational Quality through Innovation Partnerships or EQUIP. Qualifying students will be able to apply for federal financial aid to enroll in one of eight coding bootcamps, online courses or employer programs.
Coding bootcamps have emerged as an alternative way for low income and minority students to learn the skills they need to break into the technology industry without attending a traditional college or university. The most daunting obstacle is that these programs can be extremely expensive. According to Course Report, a database of information and reviews on coding bootcamps, these courses cost as much as $11,000 per student. Private financial aid has been available but only now has federal aid become available.
However some questions remain about the legitimacy and overall effectiveness of certain bootcamps.  The programs efforts to hold these coding bootcamps accountable include the requirement that all of these "non-traditional" programs partner with a third-party quality assurance entity.
The objective of this experiment is to test additional ways for poor and minority students to affordably access a technology education that leads to good jobs through programs that "fall outside the current financial aid system" and "promote and measure college access, affordability, and student outcomes," according to the fact sheet. In the first year, about 1,500 students will be eligible for $5 million in Pell Grants, which can go toward paying for classes.
Programs eligible for the financial aid include;
Now you know.