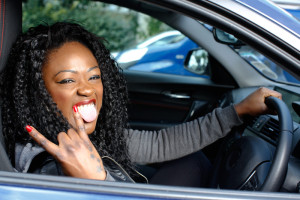 Any parent will tell you their greatest fear is the day their child gets behind the wheel for the first time.  Their child is moving beyond their control and watchful eye. They are entering the jungle called life and the open road. They are driving. Fortunately there is technology and apps for that.
For parents, especially African-American parents, driving opens a terrifying stage in their child's life. An encounter with the wrong police officer can be deadly. For those fears black parents with teen drivers, and themselves, there is the Driving While Black app. This app educates and prepares them and their child to survive encounters with police officers. It provides tools that allows them to document the encounter for later reference, immediately notify parents if they are stopped and legal information. Driving while black should not be a lethal task but we know it happens.
But we also know how teens tend to behave in a reckless manner and suffer from basic inexperience on the road. According to the Insurance Institute for Highway Safety 16 to 19-year-olds are nearly three times more likely to have an accident than drivers ages 20 and over. In the U.S. most teens dream of the day they begin to drive. And eventually they will want a car of their own. So the IIHS offers this list of safest used cars for teens.
But as long as they are driving mom and dad's car parents will want to monitor and educate their child about driving. Now General Motors is offering a new way for parents to track their child's behavior behind the wheel.
GM's new product, "Teen Driver," and will be available in the 2016 Chevrolet Malibu.
Parents can program "Teen Driver"  to track how far their teen has driven,  how fast they drive, record any speed warnings issued during a drive, stability control events, anti-lock brake events, forward collision alerts and forward-collision braking events if the vehicle is equipped with that option.
To activate Teen Driver parents unlock the feature by creating a PIN in the "settings" menu of their available MyLink system. This then allows them to register their teen's key fob. The system only records when that key fob is in use.
To download and review the full report parents just enter a password on MyLink. This tool can used to help a teen polish their driving skills. Parents could also spot potentially troubling behavior such as speeding and sudden hard braking.
But many parents can't wait or afford a brand new 2016 Malibu. For those parents there are options available now.
If you currently own a late model GM car there is the OnStar emergency communications system. This service can locate their car on a map using GPS. OnStar will also inform the owner when the vehicle has an airbag deployment.
Ford Motor Company sponsors the RoadReady app. The app is an extension of The Parent's Supervised Driving Program. The RoadReady app allows parents to track and log driving habits during their child's learner's permit process and is available on Apple devices.
Travelers Insurance offers IntelliDrive a plug-in device that records driving behaviors. Parents can see  the location and driving history of their teen. Parents get a weekly report on their teenagers driving habits that include speed, acceleration, braking, and driving hours. Most importantly parents will be alerted via text or email of unusual activity such as when their child goes beyond set boundaries. The technology is limited and is only available in several states.
Progressive Insurance Snapshot is also plug-in device that records driver behavior such as acceleration and braking as well as daily miles driven and the time of day the driving takes place. Progressive does not market the device as a way to monitor teens but it could certainly be used that way. But there are a few things you need to know about Snapshot.
Cellcontrol blocks your teenagers cell phone while driving. If someone tries to tamper with the device  it sends a text or email alert to a designated administrator. Cellcontrol is currently available on BlackBerry, Android, and Windows Mobile 5 and 6.
Parents can learn about other technology for monitoring their teens driving habits by visiting these sites.
USA Today: Apps Etc. Monitor Teen Drivers
Consumer Reports: How to Track Your Teen Drivers
Now you know