App of the Week – Parkmobile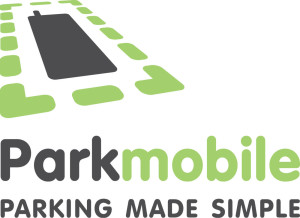 Parking can be a bitch. Trying to find a parking space is bad enough and then feeding the meter becomes a bigger pain especially if you are parked three blocks from your place of business, restaurant or shopping location. Its gets exponentially worse if you're in a strange city. That is why Parkmobile is the App of the Week
How does it work? The first thing you need to do is register your car, or cars, in the Parkmobile system.  You can add up to five cars or people to your account. Registration can be done on the smartphone after downloading the app. You also have to connect the app to a major credit or debit card. Now you're all set.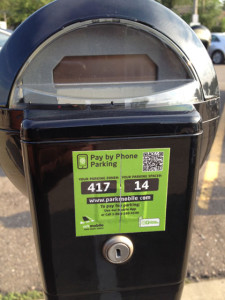 When you're driving around looking for  a parking place keep an eye out for the bright green Parkmobile parking sticker on the meters. Each Parkmobile meter has a number. You simply enter the number into the app and it will ask you  how long you want to be there. The options are by the hour and minute, by the hour  or the maximum parking time allowed. If you choose the max the app will automatically display the price and ask you to approve it. It will then display a stop watch showing you exactly how much time you have left before you are in violation.
Parkmobile makes paying just as simple. The app offers its own Parkmobile Wallet. Parkmobile Wallet allows you to put money on your Parkmobile account so that your parking transactions are deducted from that balance instead of getting individually charged to your credit card. Should your Parkmobile Wallet balance reach zero your primary credit card on file will be charged a pre-set amount to replenish the balance. It also accepts payment through VISA Checkout, MasterCard, Discover, American Express and PayPal. Parkmobile recommends VISA or MasterCard as they are the most wildly accepted.
Other features of the app include a map of meters in your area or the area you are traveling to. A 'Find My Car' function. This is a GPS enabled feature that helps you locate your car. Once you leave your car you just tap the screen on your smartphone and it locks in the location of the car. So when you are finished with your business you don't have to wander the parking lot or the city streets trying find your car, You can also add little notes about the area to help you locate it easily. You can save your parking sessions so that you can keep a budget of your parking costs and you can also save special locations on a favorites list. Other features include;
Easy access to gated facilities using the QR Code.

Parkmobile has partnered with Ford and Volvo to make the service available in "connected cars." This offers  the ability to locate, drive to, and pay for parking all through the car without the need for a mobile phone. 

For businesses Parkmobile provides flexible discount programs. Merchants can purchase QR Code Coupons to offer customers for discounted parking when paying through our app in the designated area. You can scan the QR code linked to the promo or manually enter a promo code.

Parkmobile's online permit system integrates easily with all major enforcement solutions, including drive-by enforcement (LPR).

Parkmobile allows you to  pay for electrical vehicle charging by integrating with several EV charging equipment manufacturers. The system generates and sends the user a unique access code via text to activate their EV charging session.

For owners of fleet vehicles the Parkmobile Fleet program helps keep track of all of your fleet vehicles' parking receipts, payments, and reimbursements. Check the Parkmobile website for more information.
Parkmobile and its services are available in numerous cities. Click here to see of your city offers Parkmobile.
Parkmobile is free and available for Apple, Android, Windows, BlackBerry and on Amazon.